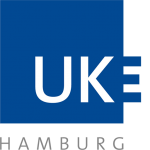 University Medical Center Hamburg-Eppendorf (UKE)
VOXEL-MAN Group
House W26, Entrance A
Martinistr. 52
20251 Hamburg
Germany
Responsible for the content: Dr. Andreas Pommert
The University Medical Center Hamburg-Eppendorf is a corporation under public law and a sub corporation of the University of Hamburg. VOXEL-MAN is a registered trademark of UKE in Germany and other countries.
VAT Identification Number: DE 218 618 948
Legal notice
Copyright
Unless stated otherwise, all contents of this website are subject to German copyright regulations and corresponding international treaties. Any use of it, in whole or in part, in digital or other form, requires our prior written permission.
For embedded YouTube videos, the license as stated on the respective YouTube page applies.
Disclaimer
VOXEL-MAN takes great care in creating the contents of this website. All materials have been thoroughly checked. However, we do not assume liability for the accuracy, completeness and timeliness of the presented information. Liability for damages resulting from the use of this information is generally excluded, except for gross negligence or wilful misconduct.
This website is provided for information purposes only. All offers are subject to change and non-binding. Our General Terms and Conditions as well as our Technical Specifications apply, which are available on request.
VOXEL-MAN may add, delete, or modify the contents of this website at any time. Pages or the entire site may be temporarily or finally unavailable.
External links
This website contains links to the websites of third parties ("external links"). We have carefully checked the linked content, whereby no legally questionable or unsafe parts were apparent to us. Please note, however, that we have no influence on third party websites. Therefore, we cannot assume any responsibility for the linked content.
Privacy policy
Information on how we handle your personal data can be found in our privacy policy.
Image credits
The photos used as banners on the homepage and the surgery simulators page, as well as for various icons, are courtesy of Christian Stelling Fotografie, Hamburg.
Map images are based on OpenStreetMap data, © OpenStreetMap contributors.