Main Content
VOXEL-MAN
Coming Up: Virtual Training in Endoscopic Ultrasound!
VOXEL-MAN designs and manufactures virtual training simulators for medical education.
Modern surgical techniques require manual dexterity and a thorough understanding of the surgical approaches. In order to minimize the risk for the patient, a significant training effort is required. Traditionally, surgical training is largely based on human specimens, which is increasingly reaching ethical and economic limitations.
VOXEL-MAN training simulators are based on virtual reality (VR) and robotics technologies. They offer decisive advantages especially for young residents. Difficult parts of an intervention may be practiced over and over again at any time, without special preparations or the need for specimens or disposable materials. The position of structures at risk can be much better understood using various visualization techniques. Through an automatic evaluation, the training success can be monitored and visualized as learning curves.
The surgery simulator VOXEL-MAN ENT combines the modules VOXEL-MAN Tempo for ear surgery, VOXEL-MAN Sinus for endoscopic sinus surgery, and VOXEL-MAN My Cases which allows you to create your own training cases from CT images. The training simulator VOXEL-MAN Dental covers various forms of tooth preparation in dental education. With VOXEL-MAN 3D Printing, you can create physical models of your digital surgical site.
The effectiveness of our training simulators is demonstrated by numerous independent validation studies.
Events
Dubai, 17-21 January 2023
Interlaken, 10-11 November 2022
News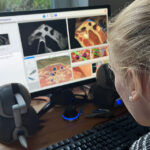 Hamburg, 04 November 2022