Virtual Surgery Simulator for ENT Residency Training
VOXEL-MAN ENT is a unique simulator for surgery training in otorhinolaryngology. It combines the applications VOXEL-MAN Tempo for temporal bone drilling, VOXEL-MAN My Cases for creating individual training cases from CT or CBCT image series, and VOXEL-MAN Sinus for endoscopic sinus surgery. Based on virtual reality and robotics, it provides a look and feel close to the real intervention.
VOXEL-MAN ENT is ideally suited to gain a thorough understanding of the surgical anatomy and approaches in a safe environment. All procedures can be practiced as often as needed, and the costs for a surgical training lab can be significantly reduced. The training simulator features one- or two-handed operation of the instruments, predefined tasks, automatic skills assessment, visualization of learning curves, video capture, and much more. Its benefits are shown by independent validation studies.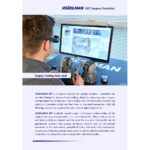 The user interface is currently available in English, Chinese, French, German, Portuguese, Russian and Spanish (other languages on request). The optional housing provides two arm rests and an electrically adjustable height to ensure a realistic and comfortable working position.