Surgery Training with own Cases from CT and CBCT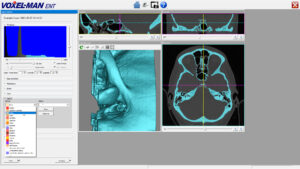 Voxel-Man My Cases opens up a completely new world in virtual surgery simulation. With this module, you are no longer limited to predefined cases, but can create your own training cases and tasks from your research or clinical data. All it takes is a CD with images in standard DICOM format.
Voxel-Man My Cases covers a wide range of innovative features:
Within just a few minutes, you can upload any CT or CBCT dataset, select the most suitable study, create a bone model and start drilling. It provides the same visuals and haptics as the predefined training cases.
With advanced interactive segmentation tools, you can add various structures at risk to the model, such as the dura, the sigmoid sinus, or the ossicles. These structures have the same look and feel as in the predefined training cases, such as distinct colors and raise of alarm in case of an injury.
With the build-in authoring tools, you can even create your own tasks, which can be added to the Voxel-Man Tempo and Voxel-Man Sinus modules and appear in the same way as the predefined tasks. Your master preparations serve as references for the automatic skills assessment.
But the possibilities are not limited to this. For example, you can export the segmentation results as a 3D DICOM model to other applications, or create your own digital models for 3D printing.
Possible applications are nearly endless. With Voxel-Man My Cases, you can make your most interesting clincal cases part of the standard curriculum. In the bone drilling lab, residents can work on a virtual copy of a specimen until they have mastered the surgical anatomy, and then go for the real bone, or a 3D printed copy. With Voxel-Man My Cases, your Voxel-Man ENT really becomes your personal surgery simulator.