Surgery Training with own Cases from CT and CBCT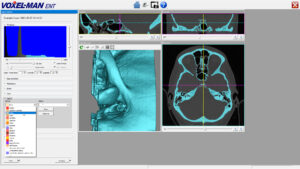 With the Voxel-Man My Cases surgery simulator, you can upload your clinical or research data from CT or CBCT and create your own training cases. All it takes is a CD with images in standard DICOM format. Within a few minutes, the system provides a bone model that is ready for drilling.
The 3D model may be further enhanced with structures at risk which can be identified using an advanced interactive segmentation. Your models may thus reach the same functionality as the predefined training cases.
And, of course, Voxel-Man My Cases shares the key advantages of all Voxel-Man surgery simulators.